What is Eyelash extensions One by One Technique?
Eyelash extensions are semi-permanent extensions of individual synthetic hairs applied to your natural lashes one by one.
By choosing length,thickness and curl lashes, you can create design you want.
Eyelash extensions are applied individually to your natural eyelashes approximately 1-2mm from the eyelid using a bonding agent. Therefore, neither the lash nor glue has contact with the skin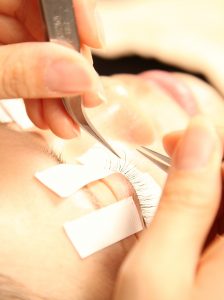 Eyelash extensions look completely natural.
Eyelash extensions have a natural curve and perm is not necessary.
It is a more healthy option for your eyelashes.
Which is your style, cute, sexy or glamorous?
We will create eyelash extensions to your desired style.
Eyelash extensions can be tailored to suit the personal taste.
Your eyes will look bigger, cute, sexy, and gorgeous even with no make up on.
So it will cut your make up time in the morning!!
Eyelash extensions will not damage your eyelashes compared to having daily use of eyelash curlers, perm and mascara/mascara removal.
Eyelash extensions can last approximately 3 to 4 weeks, depending on the natural growth cycle of your eyelashes.
Due to the natural growth cycle, the lasting effect of the eyelash extensions may vary.
The maximum length of the natural growth cycle is 3 months.
By having a touch up to replenish the lashes that have fallen out, your eyelashes will always look fabulous.
We recommend having a touch up for every 3 to 4 weeks to maintain good condition.
We offer beautiful eyelash extensions applying our highest technique combined with our top priority being consideration for healthy nourishment of your natural eyelashes.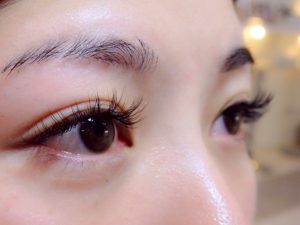 If you are looking for
-natural look
-design to suit your personal style
-healthy eyelashes
-no pain or irritation in your eyes
We invite you to experience our eyelash extensions.